#OldCronkhiteRanch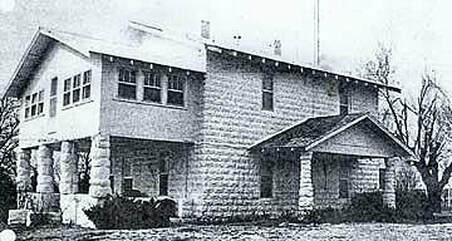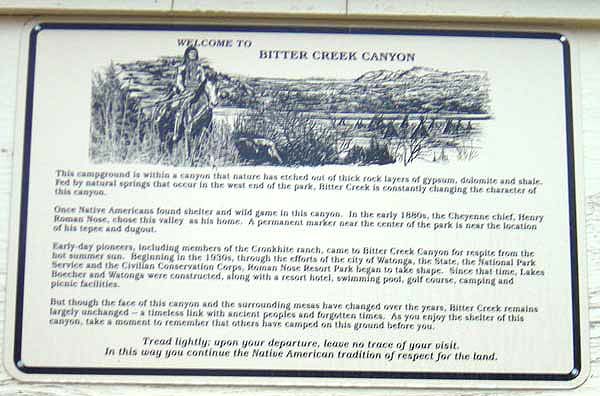 Location
The Old Cronkhite Ranch (later known as the Bitter Creek Ranch) adjoins the western border of Roman Nose State Park near Watonga, Oklahoma. The ranch house, which can be seen from the park on the western horizon is on the National Register of Historic Places.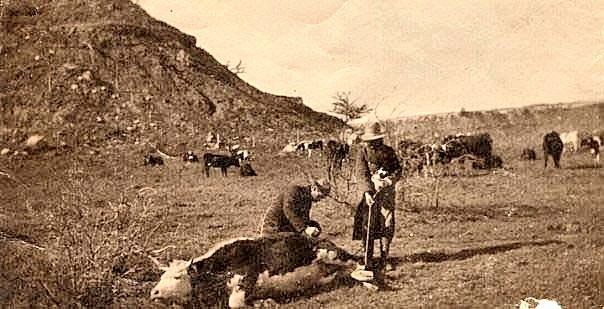 Early History
Will and Eva Cronkhite had three sons, Buell (J.B.), Cap and Chet and twin daughters, Della and Nellie. They originally lived in a house in what was known as Roman Nose Canyon. The canyon was filled with Indian encampments along Bitter Creek. In 1904, Will and his brothers built a stucco mill on the Choctaw Railroad in Roman Nose Canyon. In 1906, Will sold the mill and the name was changed to Roman Nose Gypsum. The post office was called Bickford so the mill was usually called Bickford Mill. Bickford is now barely even a ghost town.​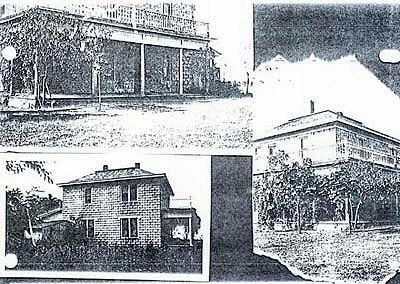 Construction of the Ranch House
Will Cronkhite constructed the Cronkhite Ranch House in 1906. There is a very large deposit of gypsum north of the ranch which was used to make the building blocks for the two-story ranch house. The historical association with early Western Oklahoma rancher, Will Cronkhite, and the unusual construction method used for this house make this a very significant structure.

The original house had a wraparound two-level wooden porch and there was mention in an old newspaper article that on August 25, 1910, "Miss Mamie Cronkhite entertained at the Cronkhite home … The evening was spent in dancing on the large porch and with music." ​(Note: The article did not specify which Cronkhite home.)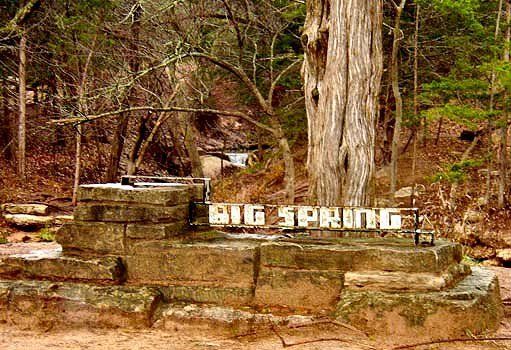 Big Spring Resort
In 1925, Buell (J.B.) and his brother, Cap, designed and built a recreational facility in the Bitter Creek Canyon called Big Spring Resort. The Watonga Republican carried the following article on August 6, 1925:
The following splendid story of Big Spring Resort near Watonga we are printing from the new magazine, "Outdoor Oklahoma": … Sportsmen who are well acquainted with NW Oklahoma have for many years looked with envy upon the natural resources of a cattle ranch 8 mi. NW of Watonga, owned by J.B. Cronkhite. The possibilities of a large pleasure resort seemed unlimited. It was not until the spring of 1925 that Mr. Cronkhite with his brother, C.G. Cronkhite decided to convert the ranch into a pleasure resort to be called "Big Spring Resort". Although the dam is not yet completed 80 A. of cabin sites have been sold. Almost every day takes parties of men from Wichita, Okla. City, Enid, El Reno, or other points of this vicinity, who wish to see the place, and nearly everyone who looks leaves with the decision to pitch his cabin there. Abundant supply of cool, pure water from a huge spring that pours 350 gal. of water per minute, canyons, hills, and caves that invite exploration, make the place a wonder spot for campers.
A 40ft. dam that has been under construction for 60 da. and that will be completed between now and Aug. 1st, will form a 15 A. lake, 35ft. deep at the dam. It will be unusually picturesque for the lake bed, practically a natural one, winds through the hills with huge Elms, Cedars, and Walnuts fringing the banks.
Arrangements have been made to stock the lake in the near future with Bass, Croppie, Brim, and Perch. L.C. Cherviant of Roosevelt district fish and game department recently made an inspection of the entire layout.. He said the spring was by far the largest one he had seen in Oklahoma and it would furnish an ideal lake for the growth of game fish. He also was impressed with the possibilities for a game preserve, and it is likely that a portion of the ranch may be reserved for that purpose.
Not only will swimming, fishing, boating, and duck hunting be provided, but the promoters are planning to offer practically every outdoor sport.
There is a great deal of ground that is excellent for a golf course and an expert is to be engaged immediately to lay out the links. A little later tennis courts and ball diamonds will be made.
The Resort is in the heart of good hunting country, quail, duck and other game are plentiful, so the hunter who camps here will be assured of good sport near at hand.
However, a tragedy occurred in 1926 and the family dropped the development plans:
"June 17, 1926 – Loree Cronkhite Loses Life – Drowned in lake at Cronkhite Resort near Watonga, victim was one of the promoters of the lake resort. Tragedy casts gloom over the entire community. Losing her life by drowning in the lake resort for which she had planned and worked so ardently the past two years, was the tragic fate of Loree (Sprecker) Cronkhite of Watonga. On Wed. evening at about 5, o'clock, Mrs. Cronkhite, her sister Mrs. Edwards, and several from town were swimming in the lake when she became pale and exhausted. Some one noticed it and pushed a log to her so she might rest against it. As she was a good swimmer no one dreamed she was in danger. Those who were on the scene state that without warning she sank and never came to the top… [Several young men] came over and dived in making every effort to reach her, but could not save her. … A phone message brought several expert swimmers and divers to the scene, but it took a couple of hours to locate the body. Mrs. Cronkhite loved the outdoors life and was happy in being able to develop the natural resources in this spot into a play ground. Just why such a tragedy should happen to one who was universally respected and loved, who had much for which to live, we can not know, but it cast a gloom over the entire community … A life in mid-summer had been swallowed up by the lake…"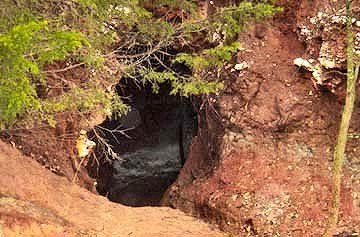 Resort Sold – 1935
On May 27, 1935, the Cronkhite's sold 540 acres, including the Big Spring, to the City of Watonga, which in turn gave the land to the State Parks Department. The park was developed with labor from the Civilian Conservation Corp over several years. The park swimming pool was opened on July 28, 1938 with a big Swim Day and picnic.
Three Springs

The 40 acres that is out of Section 23 contains three springs, Little Spring, Middle Spring, and Big Spring. The Indians called it the "Spring of Everlasting Waters" and it still gushes 400-600 gallons per minute. The water that comes out of the three springs forms Bitter Creek. Bitter Creek has very cold water and feeds Lake Watonga. Lake Watonga is one of the few lakes in Oklahoma cold enough to support a trout population and even has a Trout Derby in early March. Area Events from Watonga Chamber of Commerce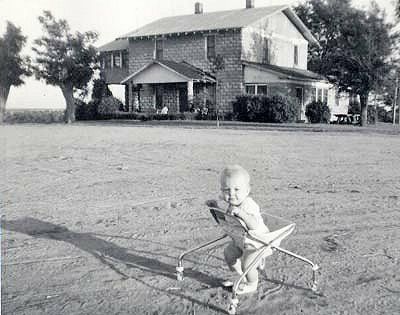 Ranch House Remodeled
The front porch and matching back sleeping porch with round stone columns were added ca. 1936 during a remodel by Buell and Lillian (Clark Blanc) Cronkhite. Lillian said in a newspaper story that "my dad made the stone pillars in front of the ranch house. He also re-did the roof." Lillian's father was a farmer and ran a grocery store in Eagle City. She also said that "originally the house had a second deck, but it was gone in 1936."
Porches after 1936 remodel – photo ca. 1960s(?) (Notice upstairs door at left)
Melvin Espy (Cowboy Hat) with Cronkhite House in Background (ca. late 1930s-early 1940s)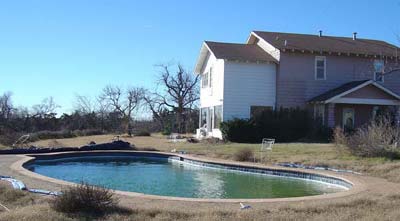 Kelly Sr. and Pat Cronkhite
The house was remodeled again in 1966 by William (Kelly) and Pat Cronkhite. The house was never painted in the early years and the gypsum-concrete blocks were left their natural grayish color. However, Pat had the house painted white. Pat had central heat and air added to the house even though she was told it could not be done. The house has two furnaces and two central air conditioners. She also had the "shed-kitchen" on the west side of the house remodeled in the 1970s with top-quality cabinets and appliances.

Prior to his death from a heart attack in December 1977, Kelly was a well-known farmer and rancher. He was president of the Blaine County Cattlemen's Association and a member of the Full Gospel Businessmen's International. He ran approximately 250 head of Angus mother cows and managed 2,700 acres of land. The Cronkhites were selected as Farm Family of the year in 1967.
The Ranch in Recent Years

In July 1986, the 1,000 acre Cronkhite Ranch and buildings were sold to Gerald "Dutch" Henderson of Oklahoma City. Bill and Janet Williamsen bought the ranch in February 2005 and moved from Loveland, Colorado. Bill was born and raised in Colorado and is from a Nebraska farming and ranching family. Although Janet lived most of her adult life in Colorado, she was born in Alva, Oklahoma and is from an Oklahoma ranching family (Blackledge-Stallings) who have farmed and ranched near Jet, Okla. since the Cherokee Strip Land Run.

The Williamsens recently sold the ranch to Marc McKinley, a cattleman who has continued with improvements to the house. The Williamsens bought a horse ranch near El Reno, Oklahoma.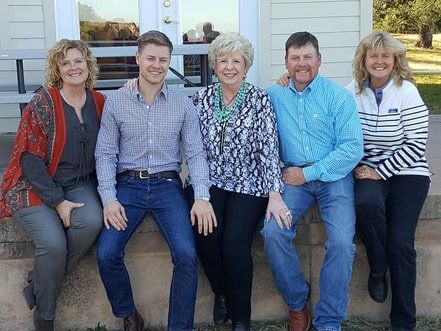 The Cronkhites Today
Pat Cronkhite is now a successful Realtor in Enid, Oklahoma.
Pat's oldest son Kelly is a pastor and head of High Call Ministries, based in Enid, Oklahoma.
Kaci Cronkhite is living in Port Townsend, Washington, is the founder of a sailing industry business known as Concentricom. In 2006, she became the Managing Director of Operations Marketing for the integrated Northwest Maritime Center Wooden Boat Foundation and also served as 30th Wooden Boat Festival Director. She is now directing some of her energy and attention to a new project restoring a house at Roman Nose that she calls Windspiration Point!
Kimbri Cronkhite-Hobson and her family live in Stillwater, Oklahoma.
Kipton Cronkhite works with emerging artists via Kipton.com

We wish to thank Janet Williamsen for the original content of this article and the related photographs!